In the tradition of the 300SEL 6.3, the Late 1970's saw an updated version of the banker's hot rod. And, like the 6.3, the 6.9 soon became the subject of many an owner's (or passenger's) favorite yarn.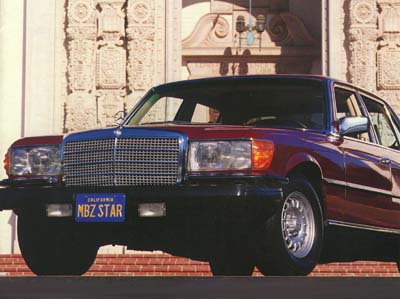 Hesitant as I am to use personal experience to begin an article, this story is too good not to tell! It was the summer of 1976, and a good friend of mine who shall remain anonymous had just taken delivery of a European-spec 450SEL 6.9. You couldn't officially get one in the U.S. until a year later, but my well-to-do associate had some pretty good connections. You've heard of being the first on your block? Well, he liked being the first in your country!
Back to the summer of '76. It was a Saturday night, and we had taken our wives out to dinner at an exclusive restaurant in downtown Los Angeles. Following an expensive dinner (he paid), we headed back to the silver 6.9 and proceeded to the Hollywood Freeway. Few Americans were cognizant enough of the cars from Stuttgart to spot the subtle 6.9 badge, but we were followed by a curious few driving Porsches, BMW's and other Mercedes-Benz models. They took their time maneuvering up to, around and behind the 6.9, and up to this time we had been gracious, keeping our speed at a modest 65 mph.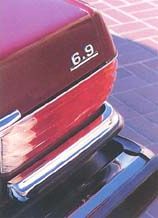 Then he came -- this impetuous foolhardy kid driving a '68 Pontiac GTO, GM's abstraction of Gran Turismo Omologato. This one was fully loaded, as the used car salesmen say, with dual ram-air hood scoops, a hood-mounted tachometer that the driver viewed through the windshield, a trunk lid wing, polished mag wheels and a candy apple paint job. A genuine Hollywood Boulevard, Saturday Night, Mothers Lock Up Your Daughters, Street Cruiser!
The GTO pulled alongside the 6.9, its youthful driver taking in the sedan's occupants with a malevolent sneer. Fortunately, this was in the 1970's, when drive-by sneerings on Los Angeles freeways weren't yet followed by drive-by shootings. The kid snickered at the 6.9, floored the throttle of his 400-cubic inch V8 and, with an exhaust belch loud enough to awaken the ghost of Alfred P. Sloan, blew past us like a shot.
There was a moment's pause as my friend and I exchanged glances, his fingers already tightening around the steering wheel rim. As if asking validation of his intention, he fixed his eyes on the fading taillights and waited. "He's got it coming," I said. "Punch it!"
The next 30 seconds were truly illuminating! No sooner had the gas pedal hit the stop than the 6.9 unleashed all 250 fuel-injected SAE horses, pressing us deeply into the leather-covered backrests. We gathered speeds by tens -- 65 became 75, then 85, and we were closing on the GTO in a matter of moments. The freeway was clear three lanes ahead for at least two miles, and the 6.9 was pushing the speedometer needle beyond 120 when we rocketed past the Pontiac. The GTO wallowed in the 6.9's wake and was not seen or heard from again.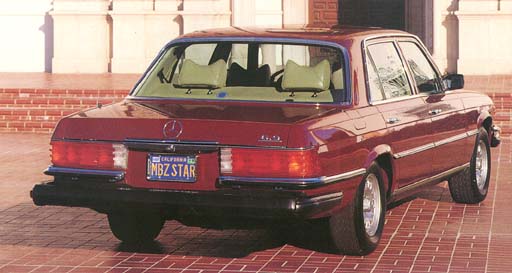 As for admonishing us for our impulsive driving, letters need not be sent. We heard it the rest of the night from our wives, and it's still memorable 14 years later. After getting home, we pulled out a copy of Lil GTO by Ronnie & The Daytonas and played it in the kid's honor. Our wives were still not amused.
No Holds Barred
With that introduction, we'll get to the meat of this article, the limited-production muscle car that DBAG built. No doubt born of the same philosophy as the earlier 300SEL 6.3, the 450SEL 6.9 was a no holds barred, cost be damned automobile. Apart from the more formal 600, the 6.9 was the best of the best, offered to those who would pay upward of $50,000 to purchase one of only 1,816 such cars produced for the U.S. market. In all, DBAG built 7,380 6.9's from September 1975 to May 1980. Sales in this country, though, were limited to the 1977 through 1979 model years.
DBAG apparently thought the car somewhat inappropriate for the U.S., coming so soon after the country had experienced the joys of lining up for hours for a tankful of gasoline. During this major energy crisis, the auto industry was confused about what cars to build. A fickle public had turned its back on big sedans and begun to embrace small, imported, four-cylinder, economy cars. Not the best of times to introduce a luxury model powered by a 6.9-liter V8.
When the 6.9 finally did arrive stateside, it proved worth the wait. Although almost indistinguishable from the standard 450SEL, the 6.9 was fitted with slightly larger bumpers than those of other U.S.-equipped W116 models. Apart from that and the modest 6.9 badge on the trunk lid, all that differed went unseen and unheard. But it was definitely felt when you applied pressure to the accelerator.
The Powerplant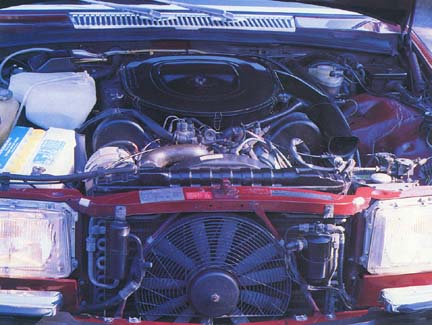 The 6.9 engine derived from the mighty M100 series that powered the 600 and 6.3 models, was DBAG's largest post-war passenger car motor. Each bank of the V8 had its own chain-driven cam activating the valves via fingers which pivoted on a ball mount. In the 6.9 these mounts were fed with engine oil to quieten the valve gear and reduce the need for periodic adjustment. The fuel injection system was updated from Bosch's pressure-measuring D-Jetronic to the third generation, mechanically controlled, continuous-injection K-Jetronic. Dry sump lubrication, unusual in any road car, eliminated oil hitting the revolving crankshaft, which caused drag and could result in lethal oil foaming under extreme high-speed driving. The oil tank is mounted alongside the engine, and oil moved from the crankcase by a chain-driven pump below the crankshaft.
With a bore enlarged to 107 mm (4.21 in) and a stroke of 95 mm (3.74 in), the old 6.3's displacement was boosted to 6,834 cc, or 417 cubic inches. These were numbers more commonly associated with Detroit's drag racing muscle cars than sybaritic four-door sedans. The 6.9 enjoyed one of the largest powerplants available anywhere. Thanks to its engine's Immense low-rpm strength, the 6.9 could get by with a three-speed, torque converter automatic transmission and a 2.65:1 rear axle ratio, making the car smoother and quieter. A limited-slip differential was standard equipment, of course. Unleaded fuel, stored in a 25-gallon tank, fed the 8.0:1 compression engine. Unfettered by emissions requirements and with a compression ratio of 8.8:1, the 6.9 in European trim generated up to 286 DIN hp and 405 lb-ft of torque. The U.S. model's engine developed 360 lb-ft of torque at a remarkably low 2,500 rpm. Every 6.9 engine was tested for over four hours, including 40 minutes at full load.
Hydropneumatic Suspension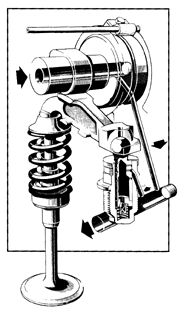 The 6.9's suspension was similar to that of the W116 series, but it eschewed coil springs and shock absorbers in favor of an elaborate hydropneumatic springing system similar to that of the Citröen, with oil/nitrogen struts. A central hydraulic oil pump and a main oil pressure reservoir fed individual spherical pressure reservoirs at each wheel. These reservoirs, themselves kept pressurized by nitrogen-filled sealed chambers, in turn fed the hydraulic strut that replaced the usual W116 chassis' coil spring and shock absorber. Automatic self-leveling, using two level valves at the front and one at the rear of the car, compensated for passenger and cargo weight, keeping headlight aim and bumper height on an even keel. While the system gave a smooth compliant highway ride, it also took a firm set when driven hard.
Capable of rapid throttle response, a car of the SEL's 116.5-in wheelbase would normally have been subject to considerable suspension squat under full acceleration and dive under braking, but not so with the 6.9. Two special torque linkages were incorporated into the semi-trailing arm rear suspension, assisted by a Watts linkage. Larger diameter front and rear sway bars reduced the 4,400-lb car's body roll in corners. Tires were Michelin XWX 215/70VR14 steel-belted radials on 6.5x14 forged light alloy wheels. Thanks mainly to the rear suspension improvements over the rear swing axles of the 6.3, which suffered from more dramatic camber changes, the 6.9 is more stable at speed.
Like all Mercedes-Benz models, the 450SEL 6.9 offered a high level of designed-in safety features. Safety measures that might have seemed extravagant to some auto makers were routine to DBAG. The 6.9 was engineered with the normal crumple zones to absorb impact and isolate the passenger compartment in a collision. The fuel tank, all too vulnerable on many automobiles, was surrounded by a metal bulkhead and positioned deep within the body in a protected area over the rear axle. The doors used DBAG's usual tapered cone latches, built to withstand impact and still work. The steering wheel, often criticized on Mercedes-Benz cars for being too large, was designed with a telescoping column and a large padded hub to protect the driver. The steel passenger shell was designed to protect occupants from side impacts and during rollovers. Although owners seldom became aware of these features, they formed as much a part of the 6.9's substance as its finely tailored leather upholstery and burled walnut trim.
Fun for the Chauffeur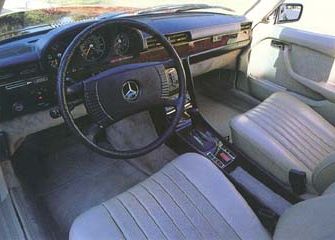 Although luxury and comfort are foremost considerations in the design and engineering of an upscale touring car, the 6.9 was also a serious driver's car, with performance-enhancing characteristics built into virtually every aspect of its design. Imagine, if you will, the power of 6.9 liters, capable of moving this board room on wheels -- one that could accommodate five adults in quiet, comfortable surroundings -- from zero to 60 mph in 8.2 seconds and on to a top speed of 137 mph. The 450SEL 6.9 was an automobile worthy of many superlatives but needing none.
Automotive journalist Brock Yates proved the car's mettle by driving one from New Jersey to Georgia, unloading his luggage, adding 5 psi to each tire and flogging the car for 40 hard laps (101 miles) around Road Atlanta, America's most challenging road course. In a test that would have reduced most sports cars to quivering, dripping and smoking hulks, the 6.9 behaved perfectly calmly except for a little brake dust on the alloy wheels and some reduction in fuel mileage. Averaging 62 mph on the trip south, the 6.9 got 12.8 mpg. Its average speed on the track was 72 mph, but fuel mileage fell to 5.9 mpg!
The Feature Car
The 450SEL 6.9 pictured here is owned by Bob & Char Scudder, Channel Islands Section. Built in December 1979 as chassis number 7181, it is one of the last U.S. versions. In May 1980, the final month of 6.9 production, this one was sold through Palmer Imports in Long Beach, California for $51,887. Although the U.S. 6.9 carried all of the normal luxury accoutrements of the time -- leather seats, central locking, four headrests, automatic radio antenna, rear reading lamps, halogen fog lamps, tinted glass and a fully carpeted trunk and, yes, a tachometer -- some options were available. At an additional cost, buyers could choose front seats with orthopedic backrests, seats with reinforced springs and/or seats with heated cushions and backrests. Options offered at no additional charge included an electric sunroof with wind deflector, metallic paint and velour seats. The owner equipped this Orient red example with European headlights.
Future automotive historians will probably describe the 6.9 as one of the truly uncompromised automobiles of its time. And uncompromised is the only superlative that this car need have bestowed upon it.
© March 1990 The Star, USA.