It's exclusive (the £22,000 price tag ensures that), fast, immensely safe and beautifully made. In fact the 6.9-litre Mercedes 450SEL is the best Mercedes ever, as Gordon Bruce and photographer Peter Burn discovered on a recent German trip.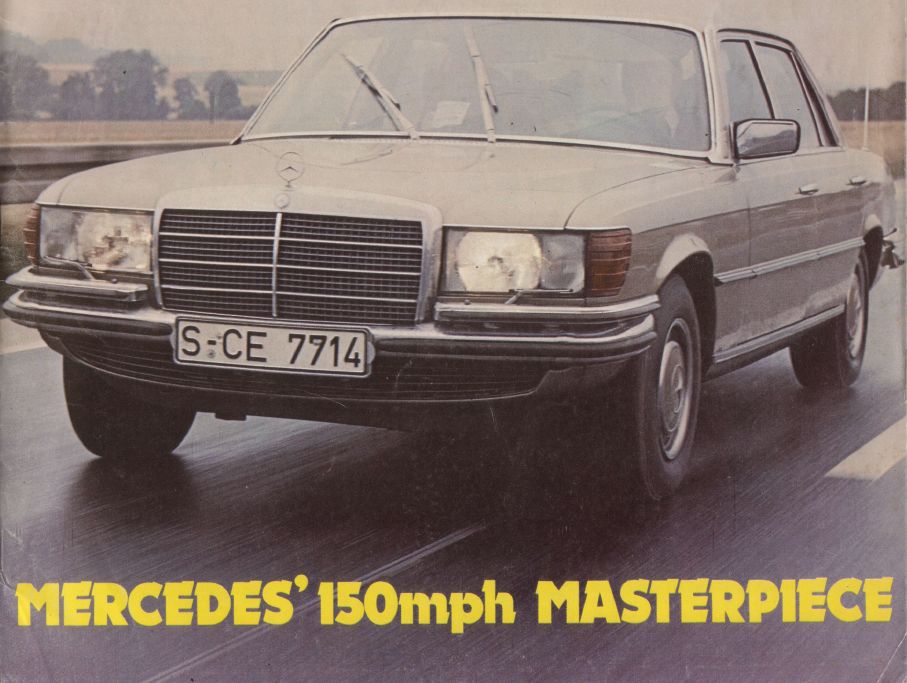 UNDERNEATH THE almost bland exterior of the steeds of Stuttgart is a confidence bred of sound, perhaps of unrivalled engineering. With the 350 "S" class saloon Mercedes claimed they were near perfection. With the added power and sophistication of the 450 they were generally considered to be still nearer their goal. So what is there left to say about the 6.9?.
To appreciate how the 450SEL 6.9, to give its full, grandiose (if confusing) title, came about, it is necessary to hark back to the birth of that king of limos, the Mercedes 600. It was for the mobile boardroom that the 6.3 litre V8 was originally developed. Then some nine years ago, in search of a prestige express with a wider appeal, they popped the same unit into a 300SEL shell.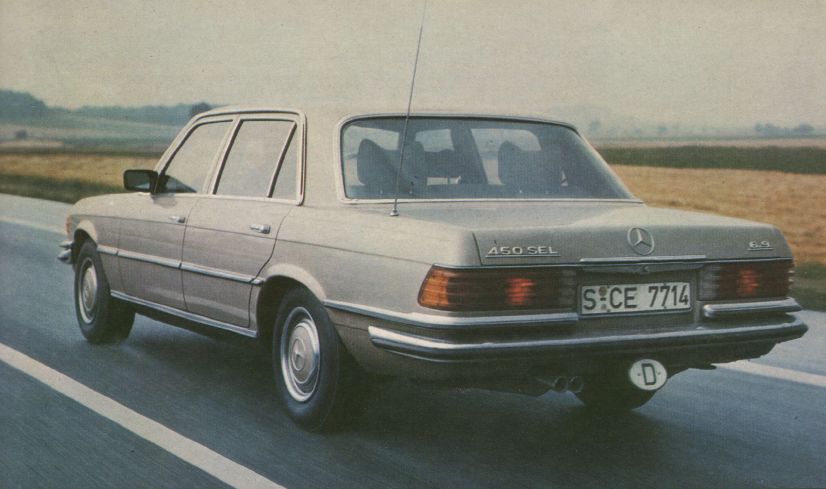 The result was electrifying. The car combined acres of accommodation with the cushioned comfort of air suspension and genuine 135 mph performance, not to mention exoticar acceleration. No fewer than 6500 of these luxury expresses had been sold by 1972 when the "S" class cars replaced the range on which the 300SEL 6.3 was based.
In the ensuing years the world dealt with a trade recession and fuel crisis - not the best time to launch a fuel-guzzling limousine, however fine it might be. But now the 6.3's successor is with us and it would be a brave man who said it wasn't worth waiting for.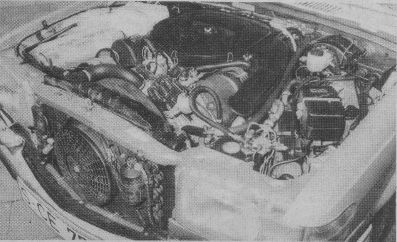 With such a technically excellent platform as the 450's on which to base their King Of The Range, Mercedes had a head start. Nevertheless a quick study of this magnificent package reveals developments in almost every area, not least in the engine room where very little now remains of the old 6.3-litre unit. Increasing the bore accounts for the bigger capacity of 6834 cc which together with the adoption of Bosch K Jetronic fuel injection, has raised maximum power from 250 bhp to 286 bhp. even more impressive is the 10 per cent increase in torque: 405 lb ft is now delivered to the flywheel - a figure which would turn any Ferrari owner red with jealousy. Other alterations include dry-sump lubrication (a move to help squeeze the bulky V8 under the low-line bonnet of the "S" class body), stiffening of the cylinder block, the use of maintenance free Ferrolastic cylinder head gaskets (which makes retightening of the heads a thing of the past), and the adoption of hydraulically operated automatic valve adjusters which act on the rocker fulcrums rather than as fast moving tappets.
With the 450SEL, Mercedes have achieved an enviable ride/handling compromise which most manufacturers would doubtless have considered more than satisfactory, even for their flagship. Not so Mercedes, who have developed an entirely new, hydropneumatic system (on the Citroen principle) for the 6.9. It bears no resemblance to the air system of the 6.3, using oil rather than air to maintain a constant ride height, and an inert gas for the suspension.
It is also this very special version of the SEL shell that the potent 6.9-litre engine and an up-rated version of DB's excellent three-speed transmission are dropped, creating what is without doubt the greatest Mercedes yet.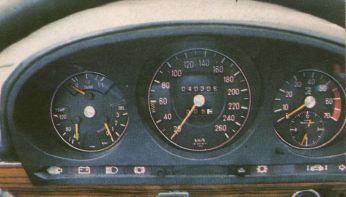 Champions of this particular three-pointed star will be enthusiast drivers, for everything about the 6.9 is geared to transporting its cosseted passengers at speed. The smooth power of the new V8 achieves far more than gracing the new big Mercedes with a similar performance to that of its lighter predecessor, and is sufficiently potent to overcome the weight penalty imposed by the more sophisticated suspension, air conditioning etc. and still make this the fastest Mercedes ever.
Early on a dry, windless morning in the Black Forest, we achieved a two-way mean maximum speed of almost exactly 144 mph, without a hint of strain: the car remaining as stable and footsure as it had seemed at 60 mph. In an independent test, Motor contributor Paul Frere saw 148 mph: suggesting even the magic 150 mph is possible in favourable conditions. At such velocity the wind noise is slightly more perceptible than at 100 mph and engine natterings are audible but not obtrusive. Even when flat-out, the big Merc maintains that uncanny aura of inbuilt safety and a run-for-ever feeling which are the hall marks of its breed.
The dusty, rubble-ridden surface of an autobahn hardshoulder is not the best place on which to perform standing start accelerations, particularly in a car with 405 lb ft of torque on tap. Nevertheless our 6.9 powered out of a cloud of tyre smoke to reach 60 mph in 7.9 seconds and 100 mph in 19.4 seconds. These figures are only marginally inferior to those of the much lighter (though smaller engined) Daimler Double Six we tested in 1973. Effortless though the acceleration may seem to the occupants, such performance would keep the Mercedes in touch with a Lancia Stratos and even such exotic competition as Porsche Carrera and Ferrari 308 GTB.
However, it does not generally go hand in hand with economy, yet our overall consumption (14.7 mpg) was not only surprisingly good, but even bettered that of the road test 450SEL. But then most of our driving constituted steady cruising - often at no more than 90 and 100 mph - on autobahns and included very little of the wasteful stop start motor of which the 450's consumption was largely compiled. Fuller use of the 6.9's exciting performance would probably have knocked that figure down to nearer 11 mpg.
Little has been done to DB's standard three-speed automatic transmission to cope with the enormous torque of the 6.9 litre engine: from the driver's point of view it is the same ultra-smooth, perfectly behaved unit previously enjoyed in the other "S" class cars. Its ability always to select the right ratio combined with that massive torque means kicking down, and particularly manual override, are rarely needed by the 6.9 driver.
Left to its own devices the box performs its two upward changes at 4700 and 5000 rpm respectively. With the engine red-lined at 5000 rpm there was little or nothing to be gained by using manual override for flat-out acceleration. There are times when the upward changes are so smooth, that only by looking at the rev-counter can you tell which gear is engaged. A truly magnificent system which in this car is coupled to a particularly high ratio (2:65:1), limited slip differential for ultimate control.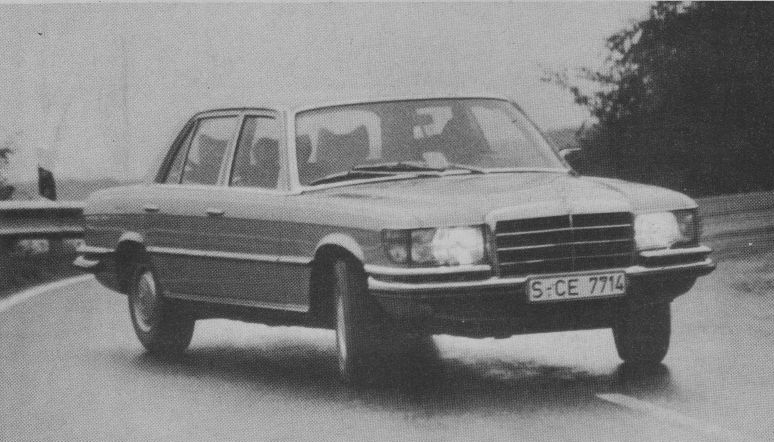 And ultimate control there is. Despite the power of the engine, and overall length of nearly 17 ft and an all-up weight of almost 2 tons, the 6.9 is child's play to drive. From the feel of its excellent power-assisted steering to the tenacity of its high speed Michelin tyres, the big Merc is a driver's car which will happily tolerate the liberties one would normally reserve for an Escort Mexico.
Mercedes engineers have introduced a degree of tautness and precision in to the suspension which no hydro-pneumatic Citroen ever enjoyed. Superior pitch and roll damping coupled with highly effective anti-dive geometry and a special anti-squat device, give the 6.9 immense stability on wet or dry roads. The 6.9 can speed through the most vicious or corners with a rare degree of confidence and control. Our testing encompassed everything from stretches of dry, deserted autobahn to flooded, undulating winding secondary lanes. The Mercedes took them all in its stride.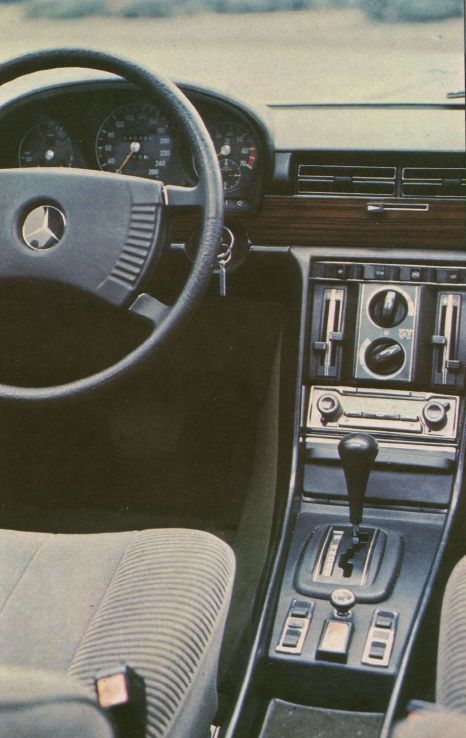 A car of such weight and performance needs powerful brakes. The Mercedes does not disappoint. Servo-assisted discs all round make light of wresting the car from speed time after time, and only abuse will impart fade and an increase in pressure needed for the otherwise sensibly weighted, if slightly spongey, pedal.
It is a Mercedes policy to sacrifice a modicum of ride refinement in order to achieve good handling. So it is with their hydro-pneumatic system which doesn't soak up the bumps at low speed in the way the Citroen would. But then neither does it roll or pitch so much. Our only real criticism of the 6.9's ride/handling compromise is its poor suppression of the bump-thump from the fat tyres - perhaps a small price to pay for such comfort and such sure-footed handling.
Another unusual feature (for a Mercedes that is) is the ability to increase ground clearance by two inches, simply by pulling a knob on the dashboard. In all other respects the 6.9 is typical of the marque. Outwardly it is totally unostentatious - only the numbers "6.9" on the corner of the boot, fatter tyres and larger bore exhausts distinguish it from the ordinary 450SEL on which it is based, and inside it is plush though free from fuss. The beautifully trimmed velour-covered seats are as firm as we have come to expect of Mercedes. Short shopping ventures might suggest they are too hard, but our intercontinental trip showed them to be ideal for a car of this nature. We alighted after 400 miles of driving without a twinge or ache. Not that the driving position is beyond reproach. The steering wheel is too big for our taste, the minor controls are a little too scattered and the separate glasses of the magnificent instruments reflect light - though not enough to distract the driver's attention.
Road noise suppression is markedly superior to that of the 450SEL (despite the bump-thump) - presumably a further bonus of the hydro-pneumatic suspension. The rush of wind never rises above a distant "whoosh" either, and the tranquility of the superbly smooth engine is only mildly disturbed on full throttle, when there is some intake roar. At cruising speeds - anything up to 130 mph - the car is extremely relaxing and peaceful. At tickover the engine is barely audible from the front seats: in the back the muted sound of the high pressure fuel pump is easier to detect.
Mercedes do not waste their time with frills and gimmicks and the extensive equipment of the 6.9 is down-to-earth and much of it is safety orientated. For example halogen head and fog lamps are standard for the front, while further fog lamps as well as reversing lights are integrated at the rear. All the windows are made of heat absorbing glass, the front and rear screens being laminated too. The front one is also tinted. Those at the side are electrically operated and have heated air piped to them to prevent misting up. Each passenger seat has its own headrest and a lap and diagonal seat belt. Air conditioning is standard as is a wash/wipe system for the headlights. The 6.9 naturally also has Mercedes' famed and very useful vacuum-operated central-locking system but no tape player or radio.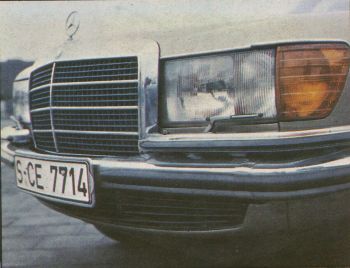 We cannot recommend the optional sun-roof, which, like the one in our 450SLC, buffeted badly at anything over 50 mph.
Outwardly unostentatious the 6.9 may be, but for those who are lucky enough to drive one, its role as a first class showcase or outstanding technological achievements will very soon become apparent. We can think of cars that are slightly more commodious, that are a little fatser, even fractionally more comfortable. But none combine all the 6.9's qualities in such a safe package. Gottlieb and Karl would be extremely proud.
© 9 October 1976 Motor, UK.